I-CAR GOLD CLASS

 What is the Gold Class Designation?
When your car has been in a crash, getting it repaired properly is critical for your family's safety and your peace of mind. But how do you know if an auto body repair facility has the up-to-date knowledge and skill set to repair your vehicle safely?
The GOLD CLASS Designation lets you know that a collision repair shop has trained technicians who know how to repair your vehicle properly.  Approximately 20% of collision repair shops currently complete the rigorous training requirements needed to meet the GOLD CLASS standard.  Businesses that earn  GOLD CLASS status are proud of their accomplishments and will typically display the GOLD CLASS logo prominently in their shops and on their websites to help you identify them as  highly trained collision repair facilities.
As vehicles incorporate increasing amounts or new materials and new technologies, current training has become increasingly important for proper repairs.  GOLD CLASS shops are trained to know:
    -    How to make the right decisions for a safe repair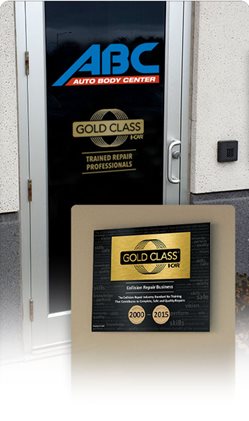 -    How to find hidden damage others may not see
    -    The latest repair procedures and technologies
    -    Which parts to repair and which parts to replace
 The Gold Class Advantage 
When you see the GOLD CLASS logo, you know an auto body repair facility is trained in how to make the proper repairs that can retain the safety and structural integrity of your vehicle.  Research confirms that choosing a GOLD CLASS business can also mean a better repair experience for you.  A May 2013 study of more than 18,000 collision repair shops by automotive information provider, CynCast, found that GOLD CLASS-rated businesses outperformed other body shops by 47% in CynCast's Shop Performance Value Rating. The rating measures shop performance using important metrics such as length of time for vehicle repair, the accuracy of the initial estimate and customer satisfaction.

Many insurers, vehicle manufacturers and repair networks require or recommend training for the repair shops in their networks, including  GOLD CLASS status. Ask your insurance company or car dealer what training their program requires.